Getting a Las Vegas SIM card or eSIM during your stay offers an easy way to stay connected while exploring. Picture this: You've just landed at the iconic LAS, your heart racing with excitement for the adventure that lies ahead. The dazzling lights, the captivating shows, and the promise of unforgettable memories beckon you. Vegas is wild – but you still need to stay in touch with the outside world. Otherwise, how will you prove to all your jealous friends that you're living it up? Follow this no-nonsense guide to getting a Las Vegas SIM card (or eSIM if you're fancy) to make sure no wild night out makes you lose touch.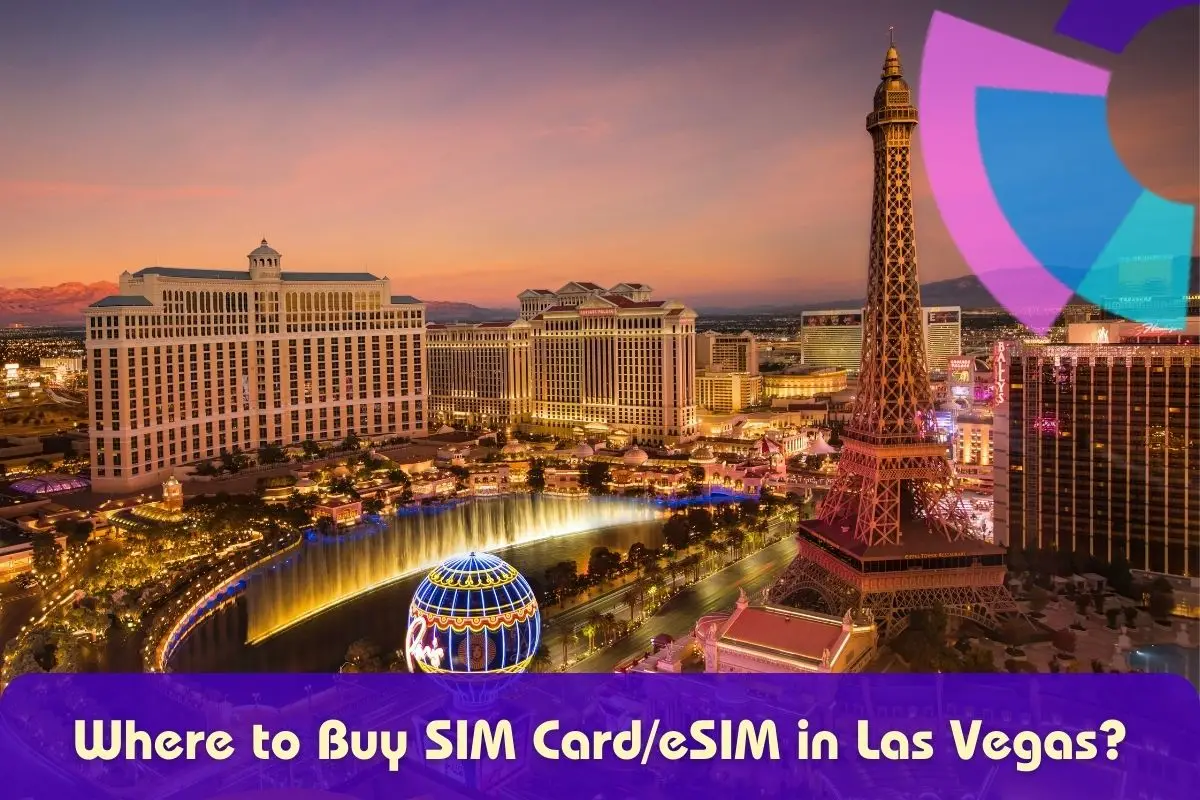 Table of Contents
I. Why Do You Need a SIM Card/eSIM in Las Vegas?
Without a Las Vegas SIM card or eSIM, you also won't have reliable data access which is critical in today's digital age. Many apps, maps, transportation services etc require an internet connection. You'll want data to look up attractions, find restaurants, check transit schedules and more during your travels around Vegas.
Relying solely on your home cellular plan's international roaming capabilities in Las Vegas can end up being very expensive. Phone carriers typically charge high daily access fees just to use your phone abroad, on top of expensive per minute/text and data rates. Bill shock can easily run into the hundreds after a short trip.
You're here to party like a rockstar in Sin City, not stress about phone bills! But believe it or not, getting a local SIM or eSIM is the ultimate way to ensure you stay connected without worries during your Vegas vacay.
Understanding eSIM: The Future of Connectivity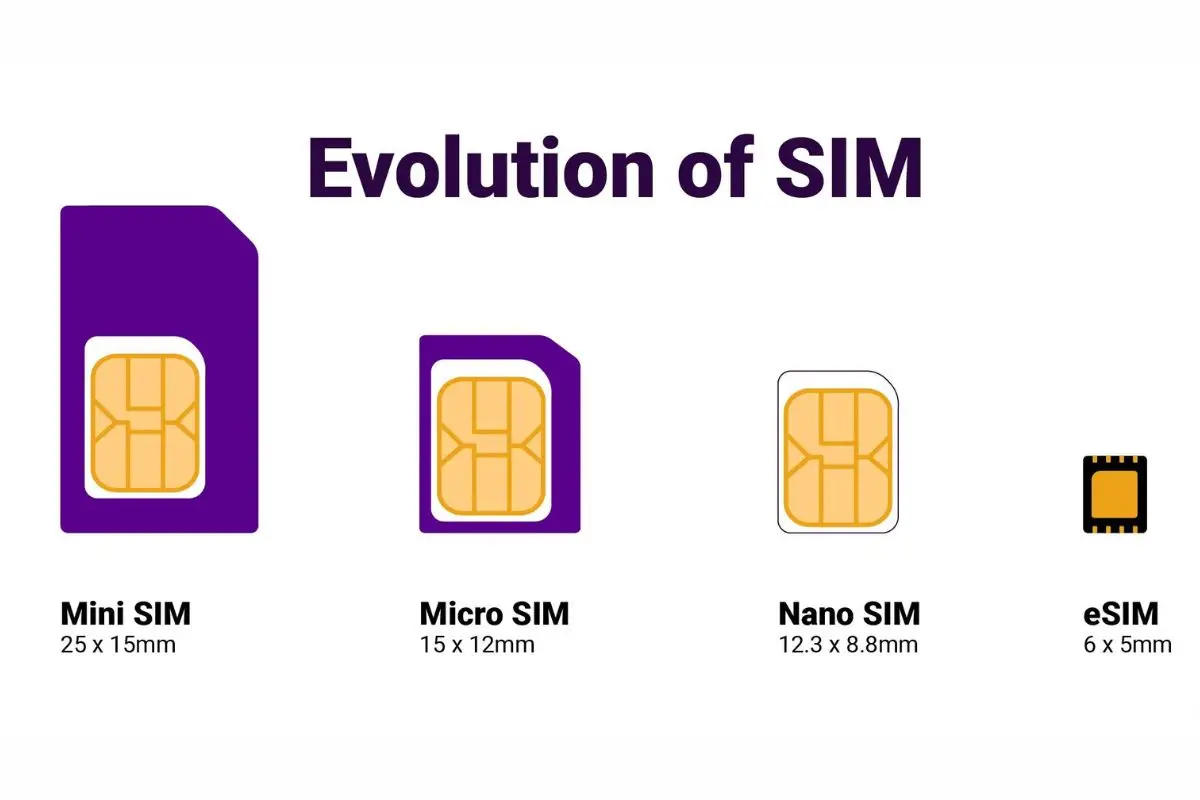 eSIM, short for embedded SIM, represents the future of connectivity in the world of mobile devices. It is a small, programmable chip that is built directly into devices such as smartphones, tablets, smartwatches, and even some laptops. Instead of using traditional SIM cards, which are physical cards that need to be inserted into a device's SIM card slot, you can change carriers on an eSIM without swapping cards, providing flexibility. This modern approach is convenient for tech-savvy travelers.
When it comes to choosing your connectivity companion, it's not always clear if you need old faithful SIM cards or the fancy new eSIM kid on the block. Your device specs and personal vibes come into play too. Luckily we're here to break down all the factors. We'll examine SIM cards vs eSIMs and how they differ. Then we'll spill the deets on what you need to consider when picking your perfect wireless match. Read on for the inside scoop!
II. Factors to Consider When Choosing a SIM Card or eSIM
Alright friends, now that we know the basic SIMs vs. eSIMs breakdown, it's time to dive deeper. Buckle up while we take you through exactly what you need to weigh to make the right choice for you!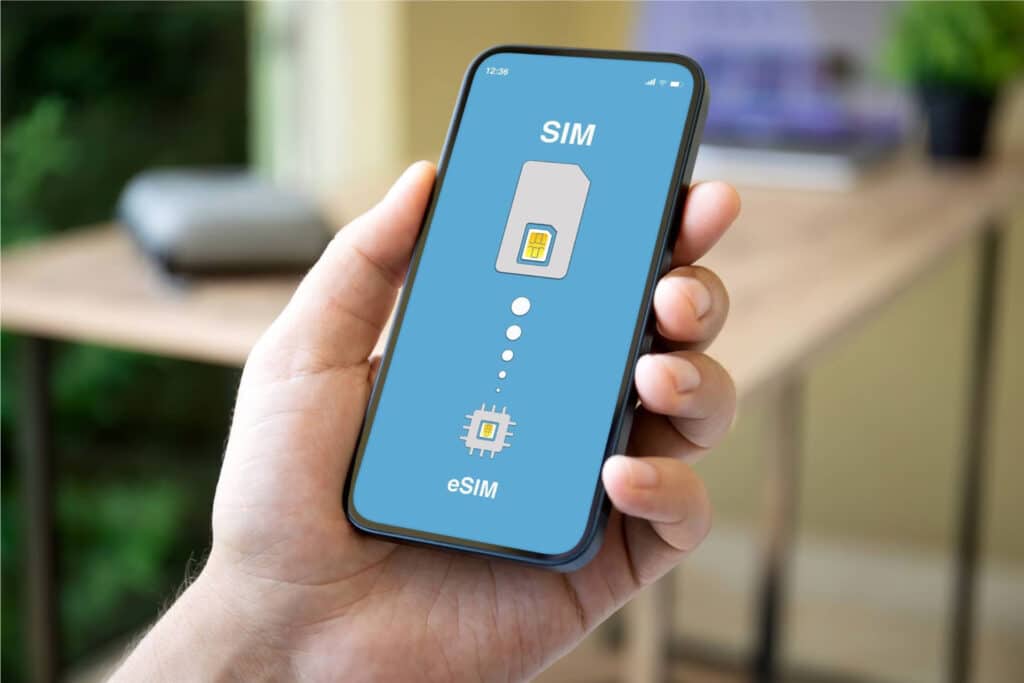 1. Device compatibility is key
Certain carriers may have restrictions on supported equipment. Make sure the provider confirms that your smartphone, tablet or wearable works with their SIM or eSIM technology. This gives you assurance that everything will integrate smoothly without technological troubles. The last thing you want is connectivity complications ruining your travels! Take a moment to check for compatibility directly with the companies to ease any concerns before purchase.
2. Network coverage and reliability
Vegas is a city that never sleeps – so you need a network always awake. Finding a perfect fitting SIM or eSIM means verified coverage in all your must-visit spots. It protects your ability to livestream the experience back home without limit. Do explore provider coverage maps to set appropriate expectations.
3. Setup Preferences
Do you love the idea of scanning a QR code rather than fiddling with teensy chips? An eSIM lets you activate from anywhere instantly. That's why requent flyers love eSIM flexibility for staying connected on the go. But SIM cards are simple plug-and-plays too. Your habits matter here.
4. Price Points
Often eSIM and SIM plan pricing is comparable nowadays. But sales and specials could swing one as the better bargain. Dollars make sense!
Overall, for travelers, eSIM may be the ultimate alternative to locating a SIM card in a totally strange city. If you have an eSIM-enabled device, it's worth considering this convenient option for your trip. You'll save time and stress the moment you arrive, so you can focus on enjoying all that Las Vegas has to offer.
III. Best Mobile Networks in Las Vegas
With countless options available, selecting a reliable wireless partner for your Las Vegas trip requires careful consideration. Let's find out top mobile carriers establishing strong connectivity in Sin City!
1. T-Mobile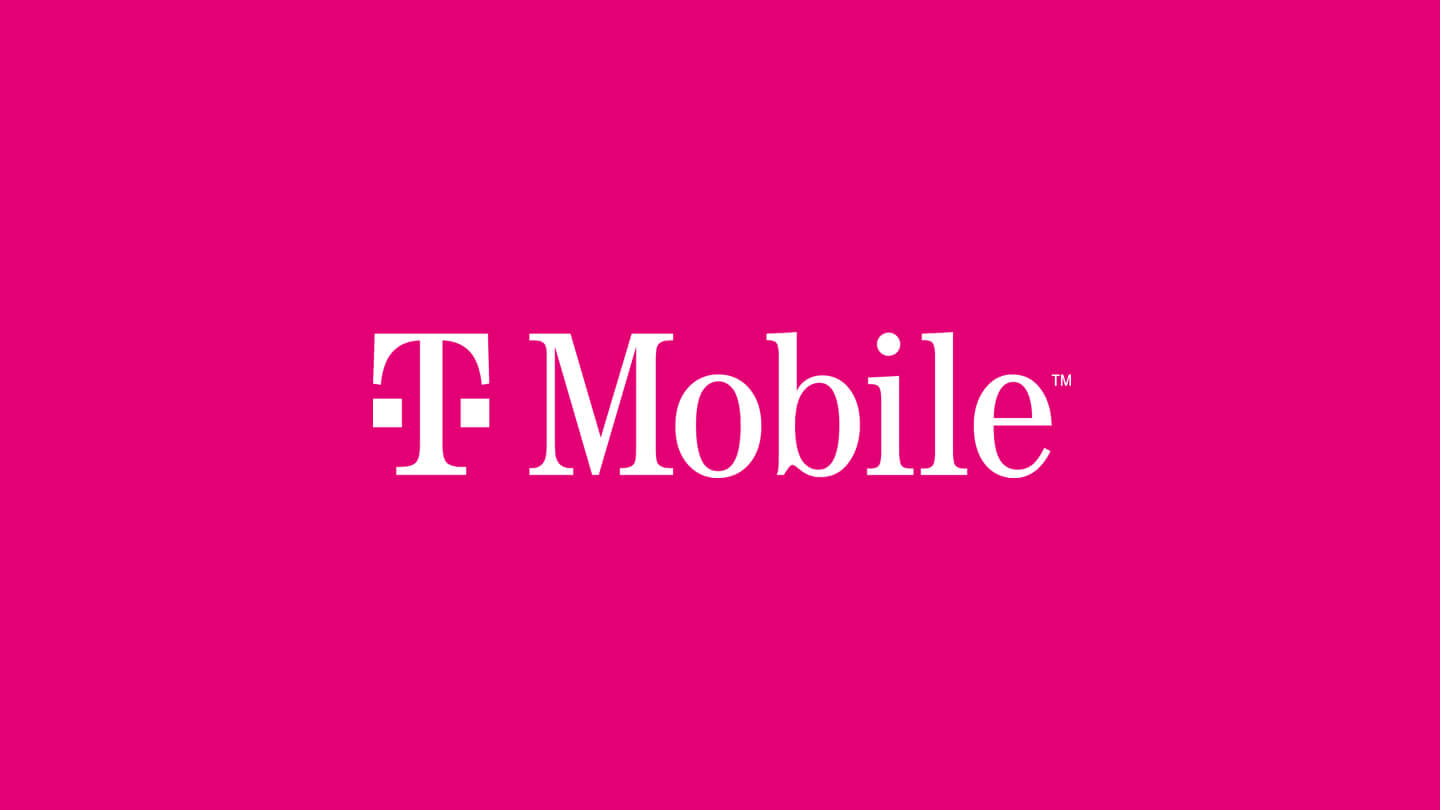 T-Mobile is one of the major wireless providers here in the US. Based in Washington state, they've been serving customers since the 1990s. Over the years, they've worked hard to expand their network across the country. Now they cover over 310 million people in almost every state.
Offering extensive and top-notch coverage throughout Las Vegas as well as bordering localities, T-Mobile earned the distinction of best mobile network in the region for 2022 according to a PCMag analysis.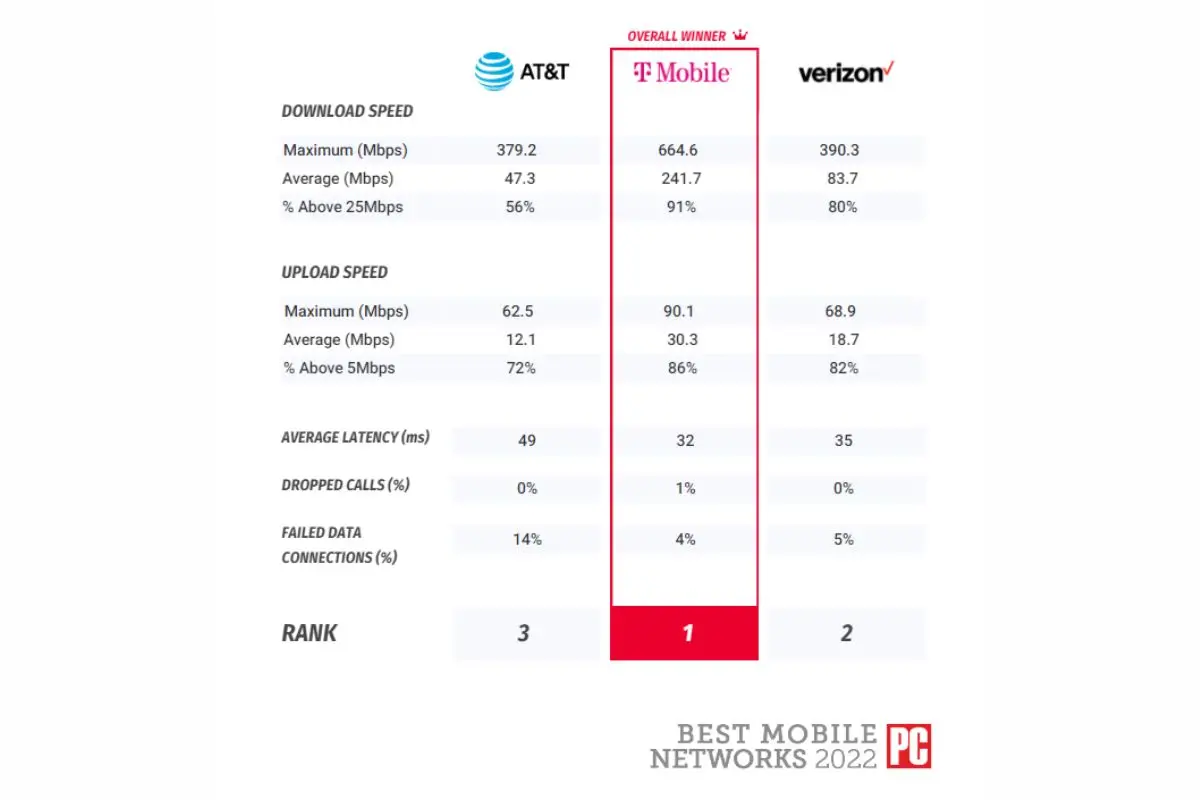 In their January 2023 report, independent network analysts at Opensignal found that T-Mobile continues to provide the speediest 5G downloads and most extensive 5G coverage nationwide, including Vegas – Nevada's largest city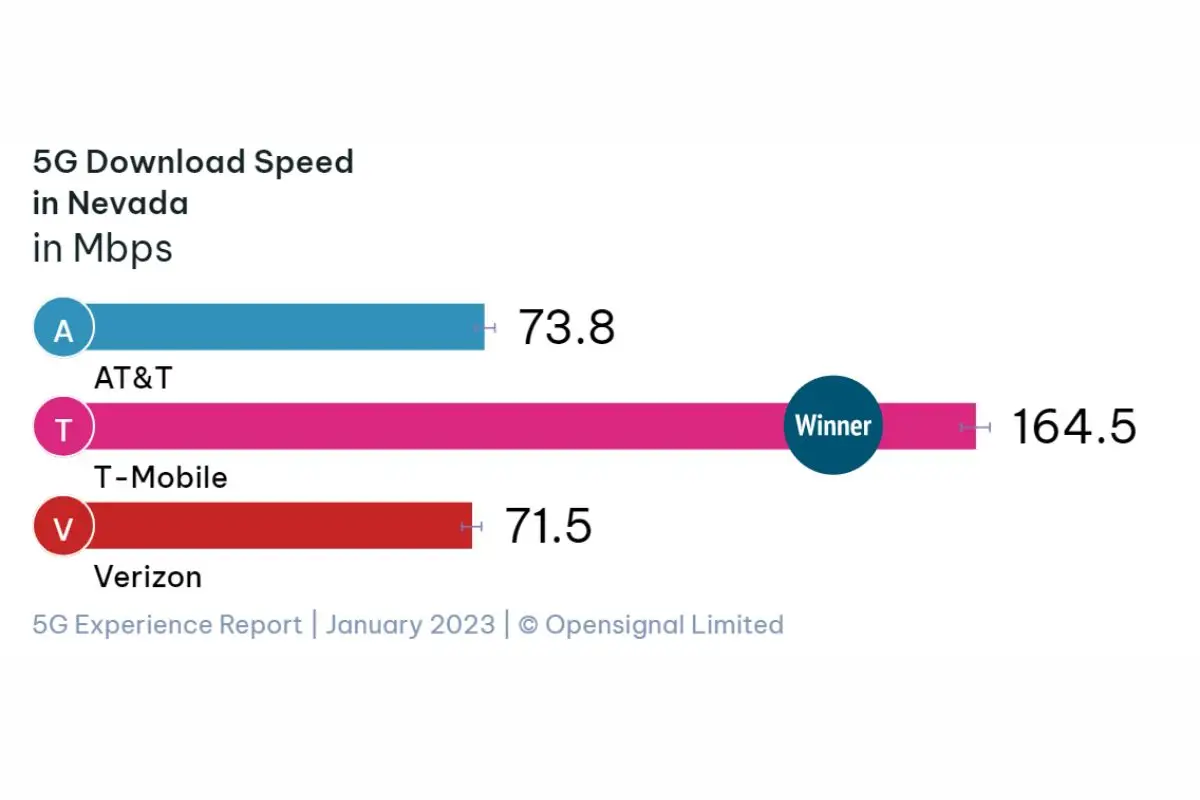 2. Verizon

Verizon has been a leader in the wireless industry for years. They're known for building extremely reliable networks that reach just about everywhere in the U.S. They were one of the first to roll out super fast 5G service.
Verizon also has the most extensive coverage footprint in the U.S., claiming to reach over 330 million people with its 4G LTE network. Verizon has placed a strong emphasis on building out rural coverage.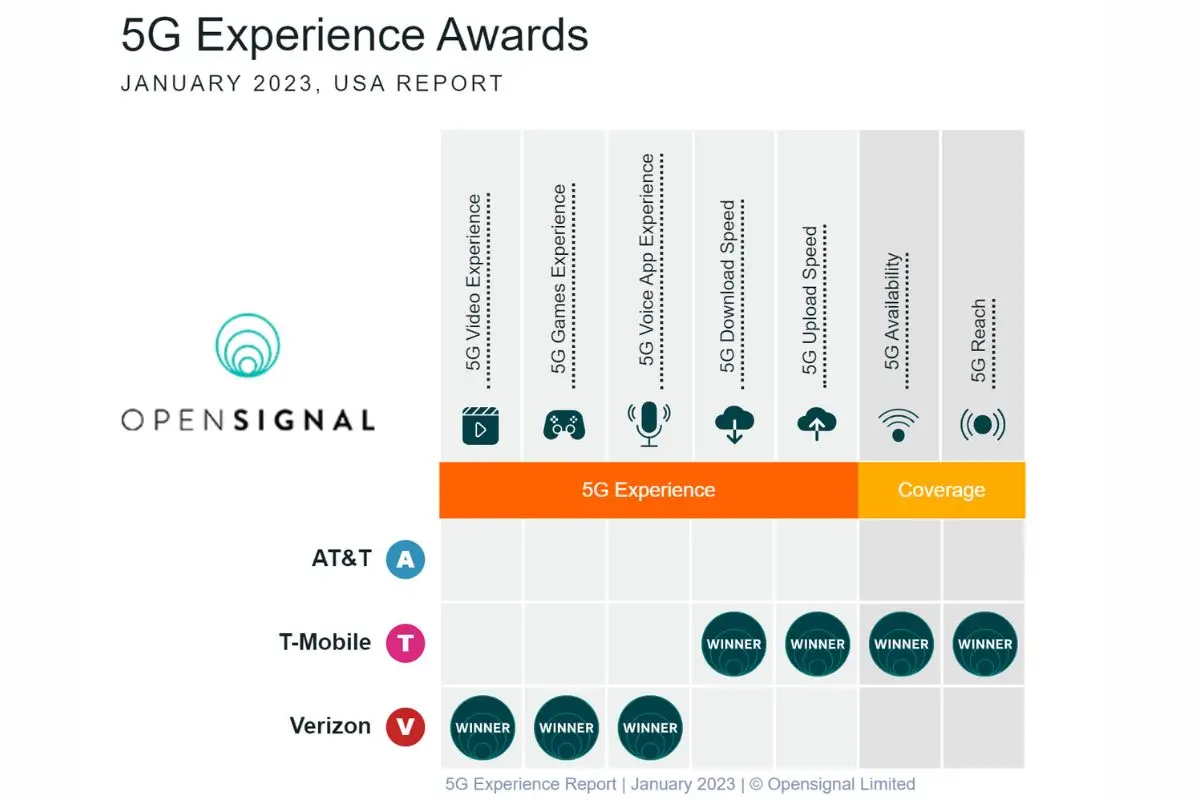 Verizon performs the best in the United States when it comes to 5G experiences like video, games and voice calling. However, T-Mobile tends to have faster download speeds and better 5G availability/coverage in local areas across regions. Both Verizon and T-Mobile are almost neck and neck when it comes to 5G upload speeds on a regional level. So in summary, Verizon leads the country for overall 5G experiences whereas T-Mobile often wins awards for coverage and speed locally, but the two competitors are very close regarding 5G uploads by region.
3. AT&T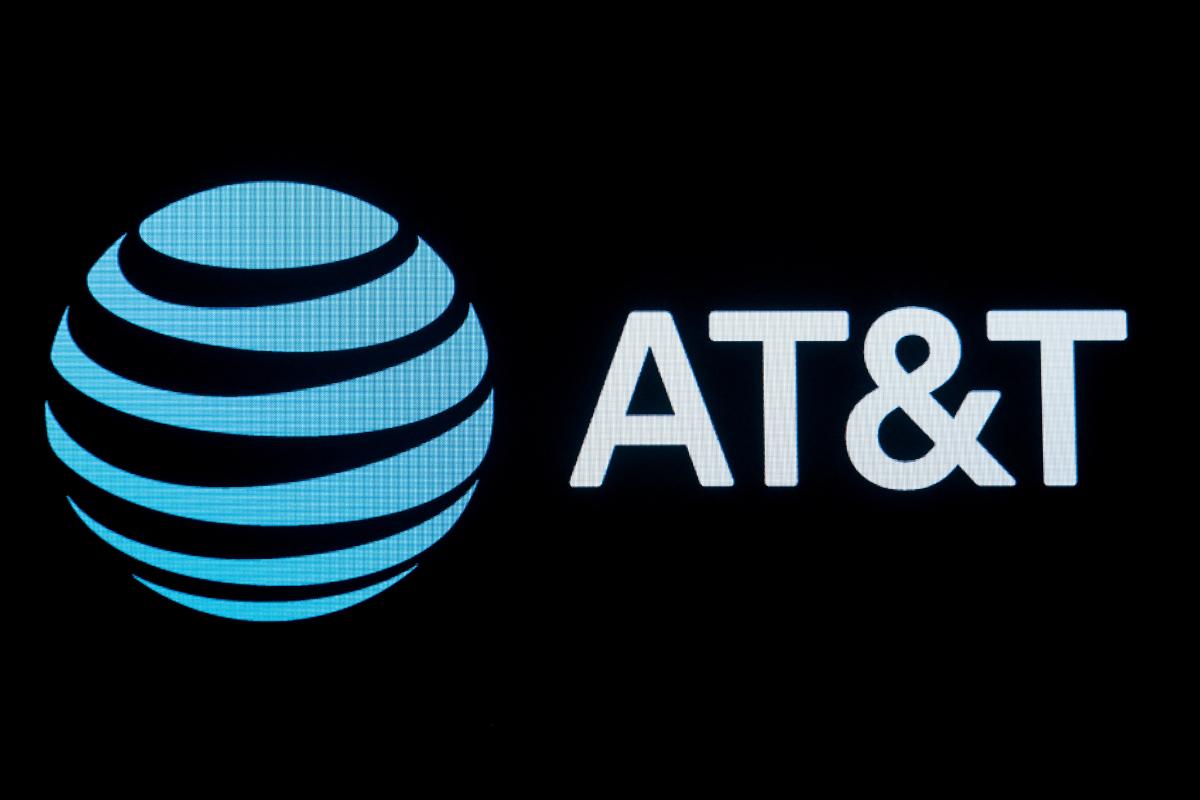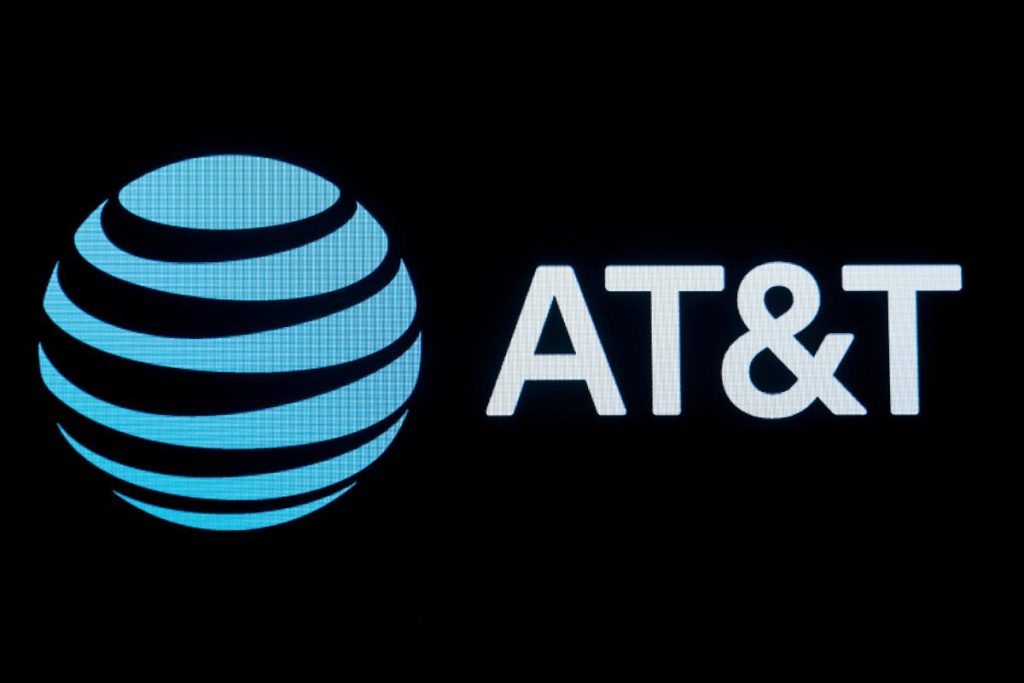 AT&T has been around for a long time, providing phone service since the late 1800s. Headquartered in Dallas, Texas, operates one of the largest wireless networks in the U.S., spanning over 250 million people nationwide.
While upgrading to "full" 5G, AT&T's network remains consistently fast and reliable in high-traffic areas. Popular with business travelers forVoLTE HD calls, they excel at Broncos Stadium and other venues. Roaming in 220+ countries keeps adventures going globally.
According to Coverage Critic, AT&T's coverage score in Las Vegas is 8.5/10. This indicates coverage is expected to be very good overall. AT&T is predicted to have very good coverage in Las Vegas according to the model, but may overstate coverage levels. The analysis also indicates that AT&T offers multiple plan options with varying features and priorities, and customer support is average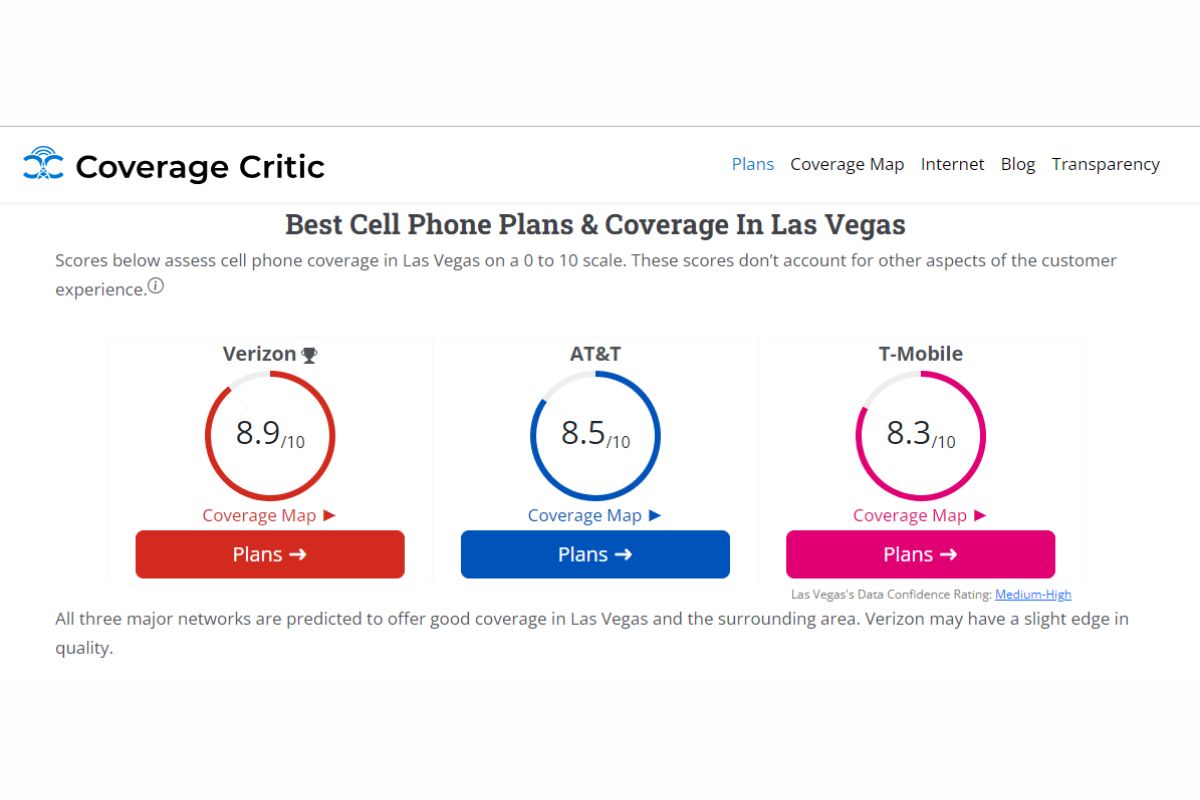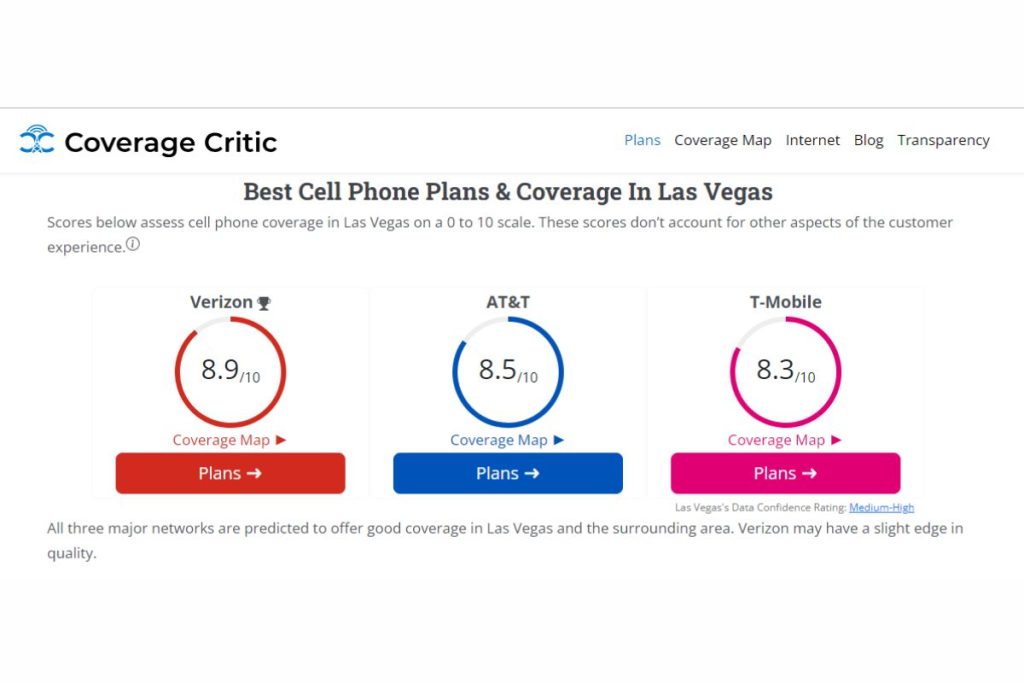 IV. Top 5 Prepaid SIM Cards for Las Vegas Tourists
Going prepaid is super handy for keeping communication costs under control. You select an affordable allowance up front, then can pause service easily once the budget runs out. No nasty bill surprises later! Prepaid SIMs allow travelers to connect conveniently without busting their travel funds.
While Verizon and Sprint are popular in the US, their networks may not support your existing phone. This kindly limits the major carriers providing tourist SIMs to AT&T and T-Mobile. Fear not though, as Mobile Virtual Network Operators offer a great solution and have become particularly popular among tourists in the US, including Vegas.
First, let's take a deep dive into what are MVNOs as their pros and cons
1. MVNO Usage in Las Vegas: A Growing Trend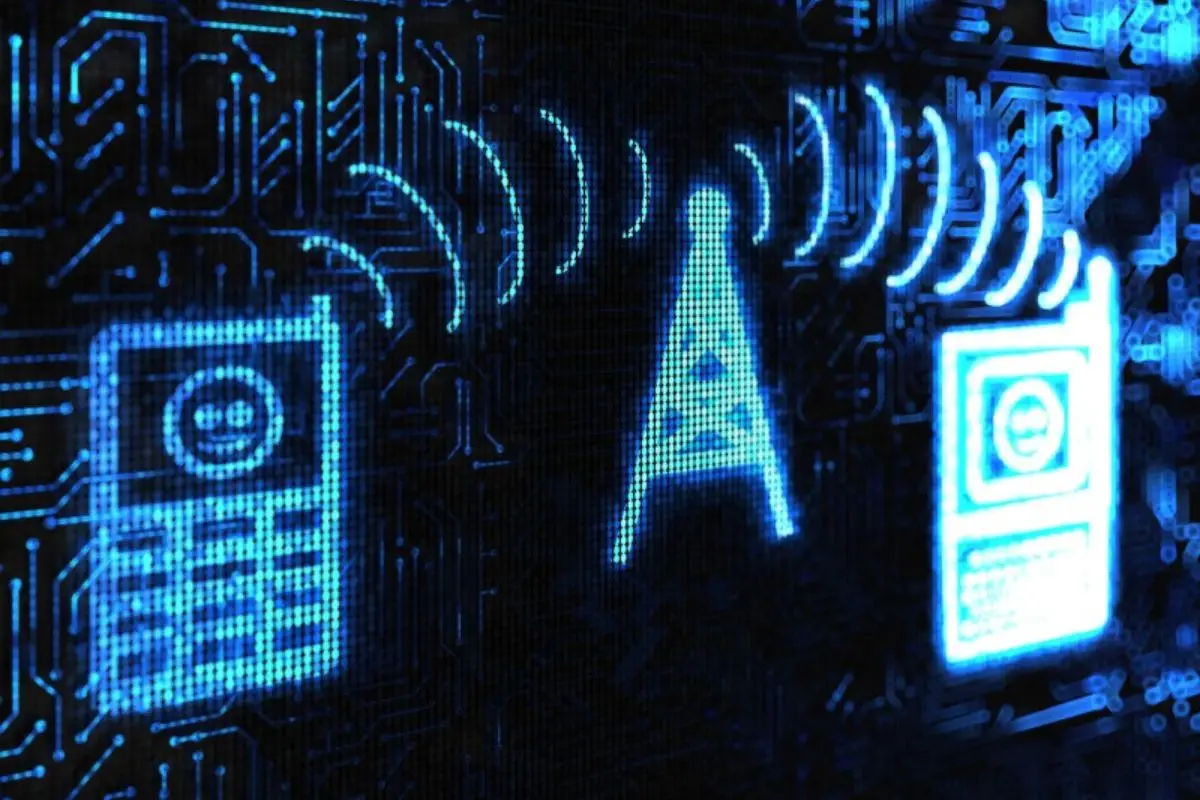 MVNOs, or Mobile Virtual Network Operators, are wireless carriers that lease network capacity from established carriers such as AT&T, T-Mobile, Verizon as mentioned above. While they don't own their own physical infrastructure, MVNOs create tailored plans and services for their customers. Visitors who want to stay connected without incurring exorbitant roaming charges find MVNOs to be a convenient solution.
Here are the benefits and things to consider when looking at MVNOs during your stay:
Pros:
Cost-Effective: MVNOs often offer competitive pricing and flexible options, making them attractive for budget-conscious users.
No Contracts: Many MVNOs offer prepaid plans without long-term contracts. This allows users to have more control over their mobile services and avoid being tied to a specific carrier for an extended period.
Network Coverage: MVNOs typically lease network infrastructure from major carriers. This allows them to utilize the same network coverage as the larger carriers, ensuring reliable service in most areas.
Cons:
Network Priority: In some cases, MVNOs may have lower network priority compared to direct customers of the major carriers. During times of network congestion, this can result in slower data speeds or reduced service quality for MVNO users.
Customer Support: They often have limited customer support options compared to larger carriers. They may not have as many physical store locations or dedicated customer service lines, which can make it challenging to seek assistance or resolve issues.
Roaming Limitations: MVNOs may have limitations or additional charges for international roaming.
2. Top 5 Prepaid SIM Cards for Tourists in Las Vegas
Next up, we'll investigate the hottest prepaid SIM card options in Vegas to help you pick your perfect connectivity partner by breaking down five top MVNOs, spotlighting key features to consider as you make your choice. By understanding their coverage strengths, plan offerings and track records, you can Identify the perfect match to power your communication needs non-stop.
Provider
Network Carrier
3G Network
Plan Validity
Data
Charge (US$)
Notes
Customer Service

Tello

 3G (GSM)
30 Days
1GB
10

Unlimited talk & text
International Calls to Canada, Mexico, China, and Romania
International Roaming NOT Included
Taxes/fees NOT Included
3-day Money Back Guarantee

By phone: 24/7
2GB
14
5GB
15
10GB
24

Boost Mobile

AT&T & T-Mobile

5G/4G LTE

3G (GSM)
30 Days
2GB
10

*50% Off First Month
Unlimited talk & text
Multi-line Discounts
Wifi Calling & International Roaming NOT Included

By Phone

4am - 8pm PST Monday to Friday
4am-7pm weekends

5GB
15
Unlimited
25*

Mint Mobile

3G (GSM)
30 Days (3-month Prepaid)
5GB
15

Unlimited talk & text
Multi-month Discounts
International calls to Mexico & Canada
7-day Money Back Guarantee

By virtual chat: 24/7 
15GB
20
20GB
25
Unlimited
30

US Mobile

Verizon & T-Mobile

5G/4G LTE

3G (GSM & CDMA)
30 Days
1GB
10

100 Days Free Trial
Unlimited talk & text
Multi-line Discounts
Taxes/fees NOT included

By phone: 24/7
6GB
18
12GB
25
Unlimited
25

Reach Mobile

3G (CDMA)
30 Days
2GB
10

*10% Off for 3 Months
Unlimited talk & text
Multi-line Discounts
Taxes/fees NOT included

5GB
20
10GB
25
15GB
30
Unlimited
35*
While all 5 providers aim to offer affordable prepaid plans, they differ in specifics like network used, plan options, prices, potential savings and features. Reach Mobile and Tello offer the lowest starting prices but provide the least details. Mint Mobile and US Mobile appear to offer the most value in terms of affordable prices, plan flexibility and potential savings.
Tip: Make sure to get the correct APN settings from the associate to connect your device to that carrier's network. APN settings vary by carrier, so double check that you have the right ones for calls, texts and data to work properly.
V. Top 5 eSIM for Las Vegas Tourists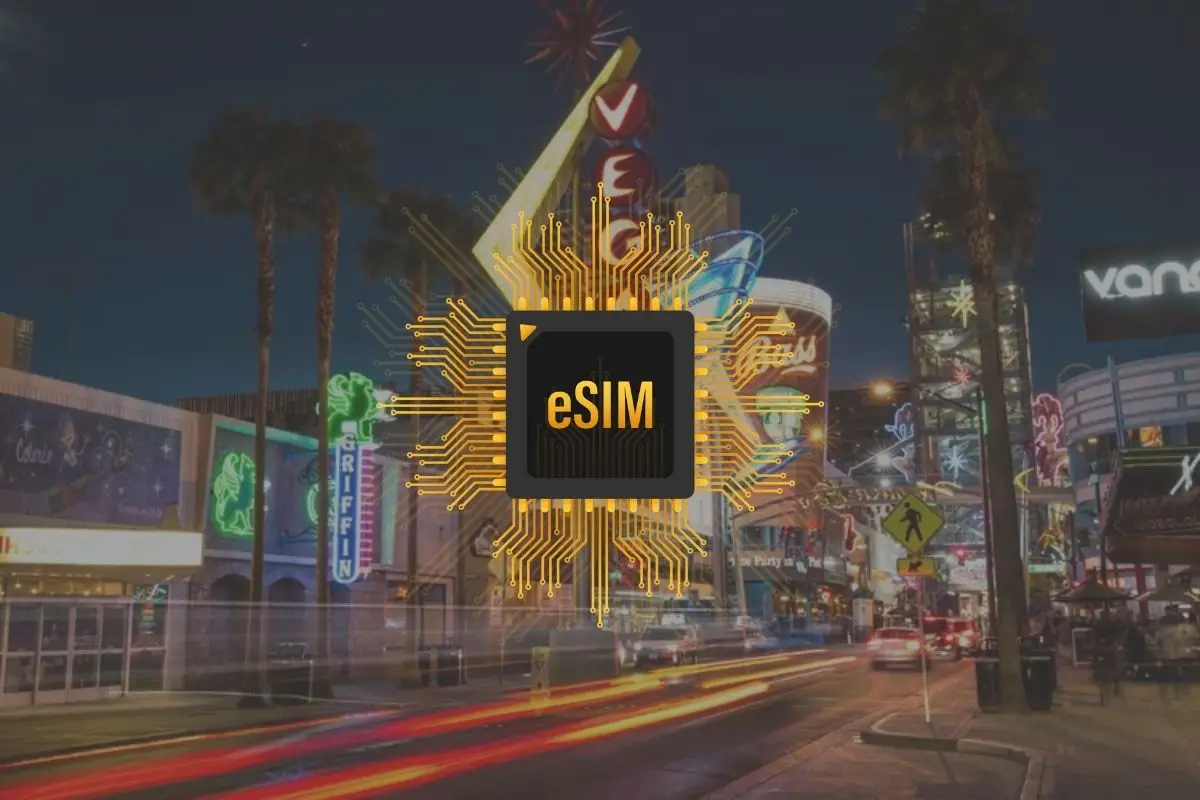 Whether you're a lifelong local or temporary tourist, Las Vegas is always on the move. Its electronic network solution does away with physical SIMs for a cooler mobile lifestyle. The premier five eSIM options for your Vegas trip will be reviewed. Prepare for seamless service and the liberty to switch up providers without a single headache!
Provider
Network Operator
Plan Validity
Data
Charge (US$)
Pros

Airalo

T-Mobile,Verizon
7 Days
1GB
4.50

Affordable prices
Top-up allowed

15 Days
2GB
8
30 Days
3GB
11
5GB
16
10GB
26
20GB
42

Holafly

AT&T, T-Mobile
5 Days
Unlimited
19

The simplicity of offering unlimited data for all plans could appeal to some customers
Offers a wide range of plan durations from 5 days up to 90 days

7 Days
27
10 Days
34
15 Days
47
20 Days
54
30 Days
64
60 Days
87
90 Days
99

Nomad

AT&T, T-Mobile, Verizon
7 Days
1GB
4

Uses three major networks

30 Days
3GB 
11
5GB
14
10GB
20
15GB
30
20GB
40

Alosim

AT&T
7 Days
1GB
4.5

Low pricing
Top-up allowed

15 Days
2GB
8
30 Days
3GB
11
5GB
16
10GB
26
20GB
42

eSIM USA

T-Mobile
3 Days
5GB - 20GB
9-70

Offers the most flexibility in terms of plan durations
Allows consumers to choose from a wide range of data allowances from 3GB to 20GB

5 Days
13.50-74
7 Days
17.90-77.5
10 Days
21.90-80.90
15 Days
12.50-62.60
20 Days
500MB - 2GB Daily
5.50 - 70
25 Days
6 - 75
30 Days
5.90 - 89.50
40-90 Days
67.90 - 353.50
Ultimately, identifying your mobile needs and pinpointing what really matters most will help you select the right provider. Key factors involve signal reliability at destinations, onboarding ease and valuable extras beyond basics. Doing research tailored to your trip helps ensure a smooth connectivity experience.
VI. Where to Buy a SIM Card/eSIM in Las Vegas?
1. Where to Buy Las Vegas SIM Cards
Travelers arriving at Las Vegas International Airport are often surprised to find that there are no major carrier displays since U.S. carriers have traditionally focused on subsidies and long-term contracts rather than prepaid plans tailored for travelers. Many domestic air travelers also rarely need to purchase SIM cards since they typically have existing plans with major operators. Your best pre-flight options are ordering a SIM online from MVNOs mentioned above to be delivered to your hotel/US destination address.
If you must buy one at the airport, there is a vending machine in Terminal 3 near baggage claim that offers some limited prepaid SIM options. But selection will be small compared to stores off airport property.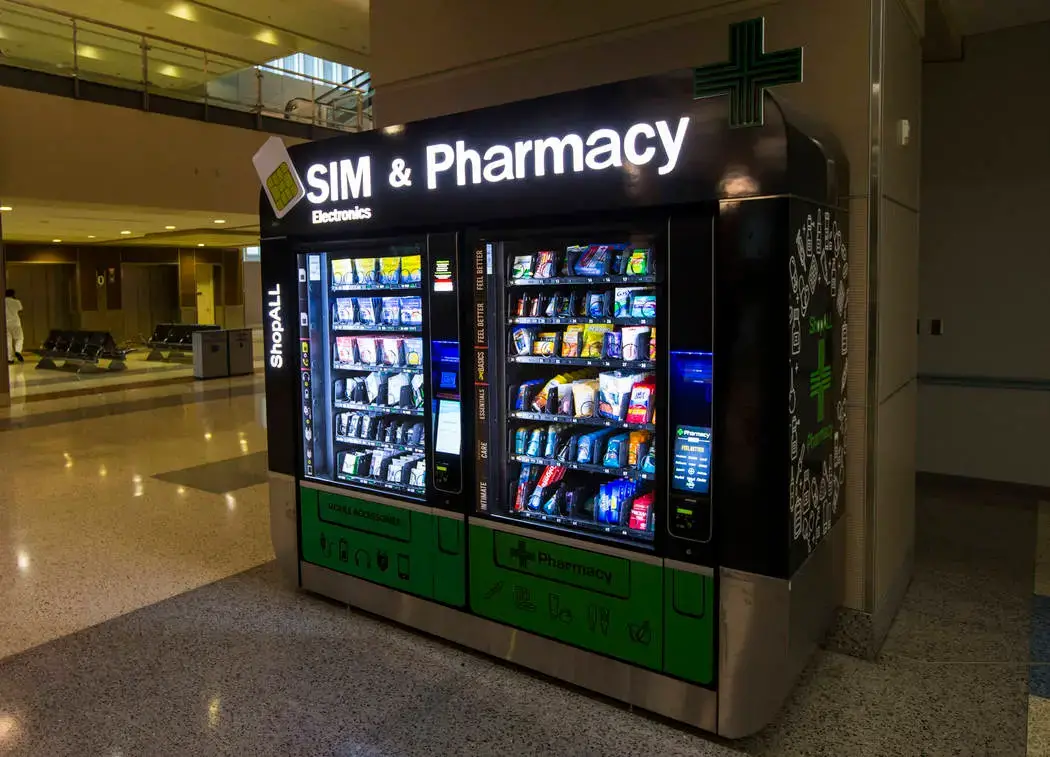 Don't worry if you don't have a SIM yet when you arrive – it's super easy to get connected. The major carriers like AT&T, Verizon and T-Mobile have stores all over in malls and downtown areas. Just look for their signs!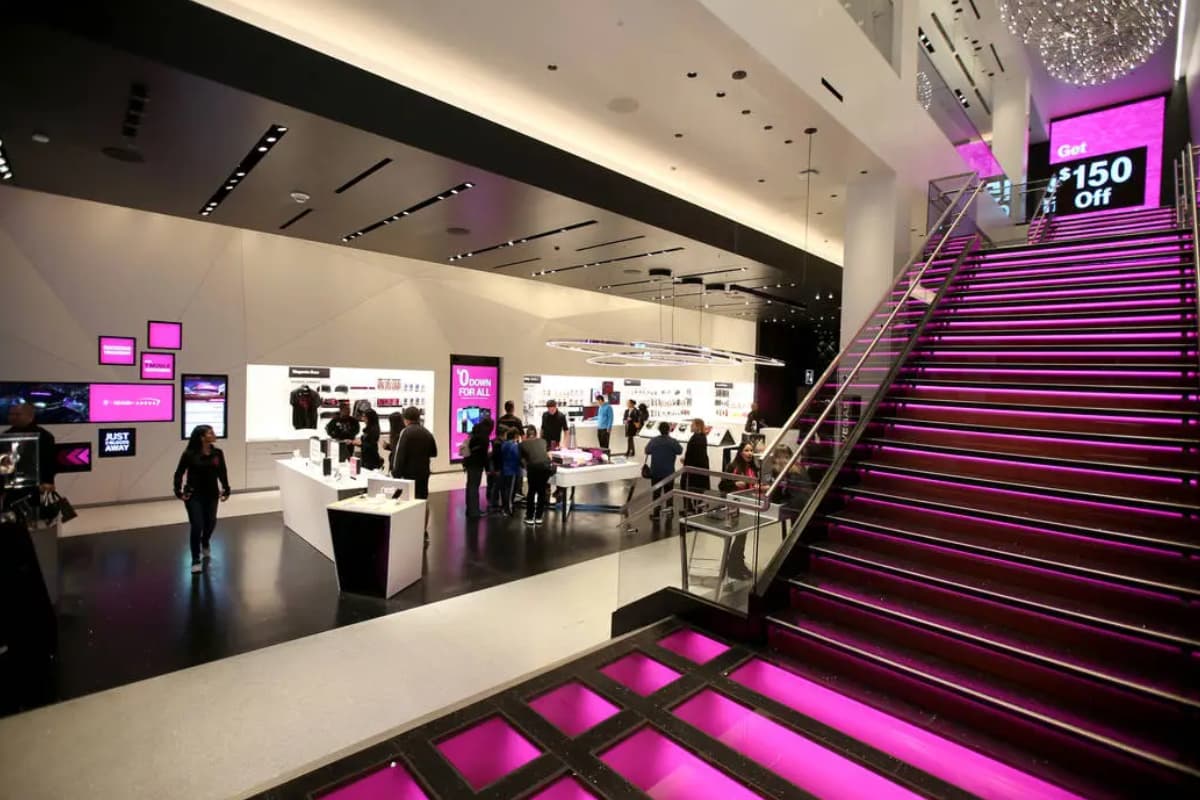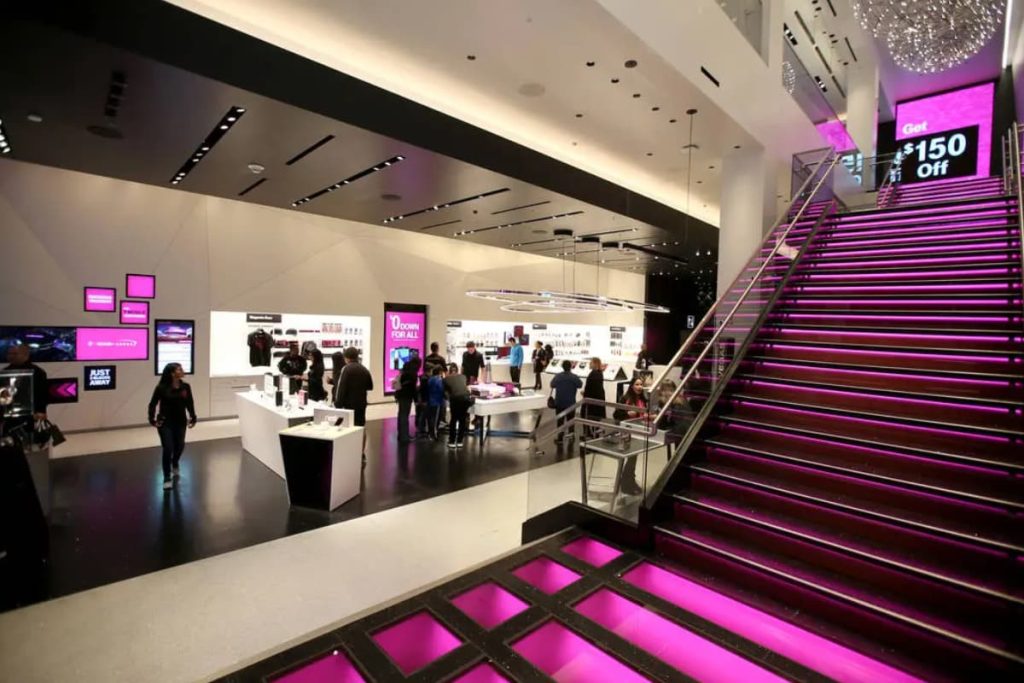 You can also find SIMs at big box stores like Walmart. Just head to the electronics section. Or ask your friendly cab driver for help – they'll know right where to take you.
Once you've chosen a SIM card and plan, things move quickly and easily from there. An associate will activate your SIM card and prepare it while you're still in the store. They'll likely insert the SIM into your device for you if needed, testing to make sure everything is working correctly before you walk away.
Tip: Once activated, keep the SIM packaging and confirmation in case you need to reference details like the account number during your stay in the US.
2. How to Buy an eSIM
Buying an eSIM ahead means you're connected the second you touch down. No wasting precious Vegas moments wandering airports or Strip stores for SIM cards. Instead, you can dive straight into the action with seamless service.
One of the coolest ways to grab an eSIM is through online retailers. Outlets like Airalo, Nomad SIM, and esimusa.net provide loads of eSIM plans you can pick up and activate before hitting Vegas. Simply visit their websites, peruse the offers, choose one fitting your needs, and breeze through setup. Best of all, you can do it all from your couch at home, saving time once in Sin City.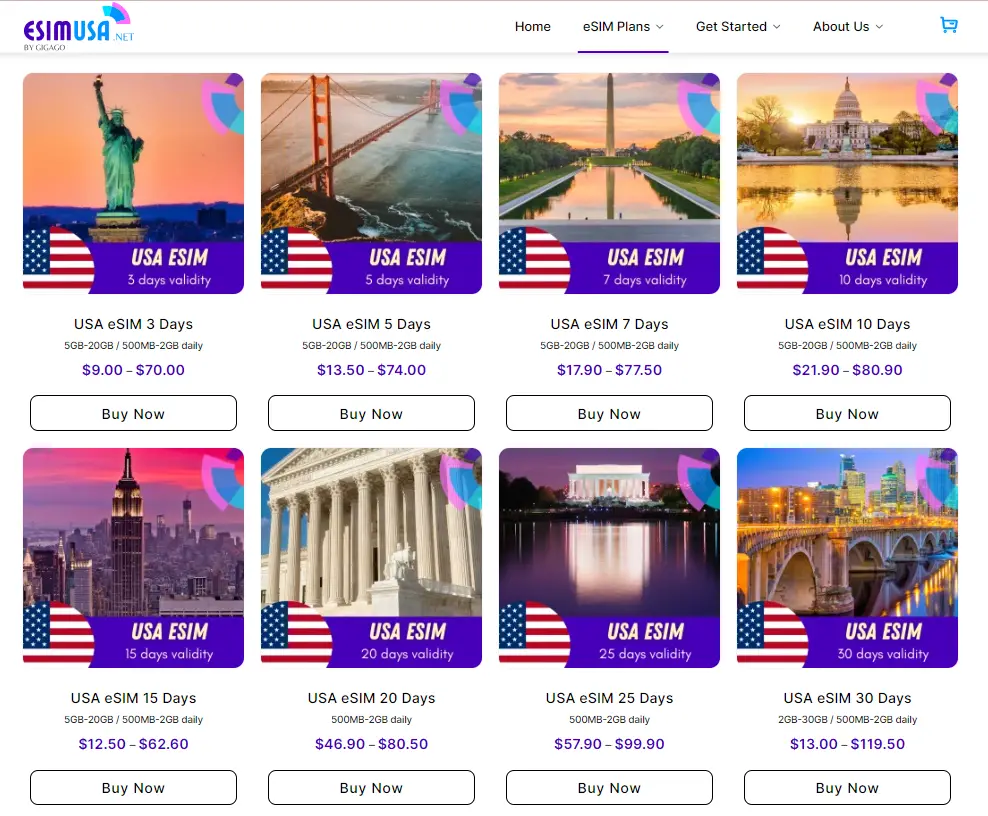 The convenience of having an eSIM ready upon arrival in Vegas is unbeatable. Whether you're a seasoned traveler or road warrior attached to connectivity, eSIM's simplicity and adaptability make mobile stress-free.
So before your trip to America's entertainment capital, definitely mull purchasing an eSIM online. Take the reins on connectivity, enjoy a no-hassle touchdown, and maximize exploring this electric town. Secure your eSIM now so Vegas is yours to command!
VII. 5 Tips to Buy SIM cards and eSIM in Las Vegas
All major carriers have solid coverage around The Strip and Downtown Vegas areas. But signals can still vary block by block or within casinos, so check your spots.
Test drive ASAP – Make sure data, calls and texts function as promised before leaving the store. That avoids communication cut-outs during your Fremont Street concert or Forum Shops spree.
Don't kill it, just pause it – When your trip ends, simply put your Vegas number to sleep instead of closure. That way it'll be primed for your next Sin City adventure!
Consider digital SIM if compatible – eSIMs let easy provider swapping while traveling. But verify your device has embedded SIM capability before spending on physical cards.
Operators like esimusa.net provide affordable and reliable eSIM data packages for foreign travelers to the U.S. Installation is simple and hassle-free, plus 24/7 U.S. support is standing by. No roaming fees either, just solid service that lets Vegas be your oyster!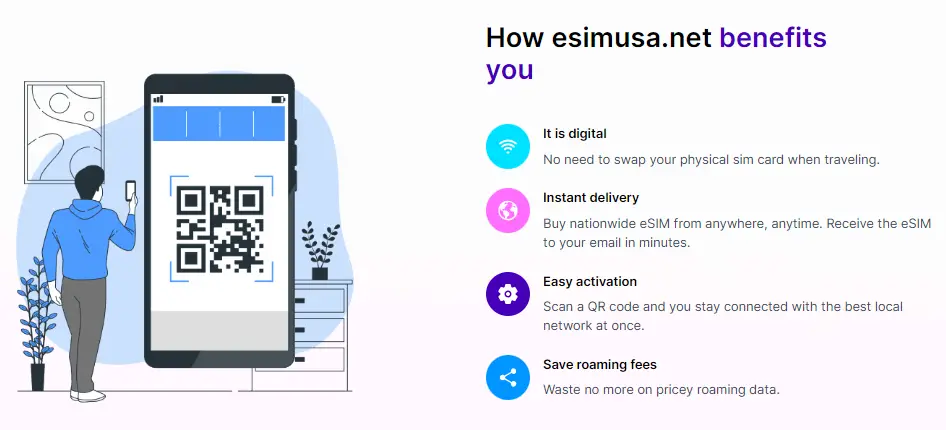 So whether you're a local or visitor, keeping these mobile musts top-of-mind means one less thing to stress and more quality Vegas experiences to enjoy without limit.
VIII. FAQs about Buying SIM cards and eSIM in Las Vegas
Can I use my existing SIM card or eSIM from my home country in Las Vegas?
If your existing SIM card or eSIM has international roaming capabilities, you should be able to use it in Las Vegas. However, be aware that international roaming charges may apply and be pricey, so it's advisable to check with your home network provider for specific details and rates.
Can I use a Las Vegas SIM card elsewhere in the US?
Yep, most prepaid SIMs provide nationwide service so you can use them coast-to-coast.
Is eSIM widely supported in Las Vegas?
Sure is – the major carriers here have embraced eSIM tech. Enjoy its perks like seamless provider switches during your stay.
How do I activate my SIM/eSIM?
It varies by provider and type. Physical SIMs usually involve inserting and following the included instructions. eSIMs may need QR codes scanned or activation codes entered. Follow the documentation that comes with yours.
Can I keep my eSIM active after leaving Las Vegas?
Yep, as long as your provider allows usage outside the area, you've got connectivity covered wherever you roam within the States!
Can I return or exchange a SIM card if I'm not satisfied?
Return or exchange policies may vary among vendors. It's advisable to check the terms and conditions at the time of purchase to determine if returns or exchanges are allowed.
Are the SIM cards in Las Vegas compatible with my phone?
Most SIM cards sold at the airport are compatible with unlocked GSM phones. However, it's always a good idea to check with the vendor or read the packaging to ensure compatibility.
Is eSIM available on all models?
Not every phone supports eSIM tech just yet. Check your device compatibility here.
IX. Final Words
Getting a SIM card/eSIM in Vegas is smart for 2 main reasons.
It saves you from expensive roaming fees on your phone bill. Swiping a local SIM means inexpensive calls, texts and data while you're here.
Staying connected lets you fully enjoy all Vegas has to offer! You can share your experiences with friends back home. No dropped calls or slow internet will ruin your fun.
Reliable SIM or eSIM ensures smooth sailing. You can immerse yourself in the bright lights and casinos anytime without issues. Whether you live here or visiting, secure connectivity is key. It allows you to make the most of your trip to this desert party city.